Notice | Aviso
Latin Mass will continue at St. Catherine of Siena Church!
Our Bishop has determined that Latin Mass will continue as usual in our Diocese until further notice. We will have Latin Mass as regularly scheduled.
El Obispo ha determinado que por ahora si tendremos Misa en Latin como regularmente se ha hecho. Continuaremos con las Misas en Latin en nuestra parroquia, hasta nuevo aviso.
Contact Info | Información de Contacto
Here to help you and your family grow in faith
St. Catherine of Siena Church is a community parish which walks the line between the traditional Catholicism and the modern day world. Father Saenz and Father Gilbert lead their Catholic-based community members in prayer and charity, offering both Latin and Novus Ordo masses for all to attend.
La Iglesia de Santa Catalina de Siena es una parroquia comunitaria que camina en la línea entre lo tradicional del catolicismo y el mundo moderno. El padre Sáenz y el padre Gilbert dirigen a los miembros de la comunidad católica en oración y caridad, ofreciendo misas en latín y Novus Ordo para que todos asistan.
St. Catherine of Siena Catholic School exist to educate students and families to integrate knowledge and a traditional Catholic faith, in all matters, in order to know, love, and serve God. We offer Preschool and Elementary school.
La escuela católica St. Catherine of Siena existe para educar a los estudiantes y las familias para que integren el conocimiento y una fe católica tradicional, en todos los asuntos, con el fin de conocer, amar y servir a Dios. Ofrecemos preescolar y primaria.

Office Hours | Horas de Oficina
Monday - Thursday: 9:00AM to 4:00PM
(Closed 12:00PM to 1:00PM for lunch)

Friday, Saturday, Sunday: Closed

Address | La Dirección
Parish Office:
6600 S. Central Ave
Phoenix, AZ 85042

St. Catherine Church:
6200 S. Central Ave
Phoenix, AZ 85042

St. John Bosco Chapel:
6600 S. Central Ave
Phoenix, AZ 85042

Phone/Email | Teléfono/Email
Phone: (602) 276-5581

Email: st_catherine@diocesephoenix.org
Mass & Confession | Misas & Confesiones
Mass and Confession take place at St. Catherine of Siena Church unless noted.
English

Saturday: 4:30PM
Sunday: 6:30AM & 10:00AM


Español

Sábado: 6:00PM
Domingo: 11:15AM & 1:15PM


Bilingual

Monday - Friday: 8:00AM
Lunes - Viernes: 8:00AM

First Saturday: 8:00AM
1er Sábado: 8:00AM


Tridentine

Wednesday (Bilingual):
5:30PM (St. John Bosco)

Domingo (Español):
9:00AM & 10:00AM (St. John Bosco)

Sunday (English):
12:10PM (St. John Bosco)

Confession

Wednesday: 3:30PM - 4:30PM
(St. John Bosco)

Saturday: 3:00PM - 4:00PM
(St. Catherine)

Join Our Parish | Únete a Nuestra Parroquia
Join Our Community and Stay Connected with the Latest Information and News.

Be Healthy
(Estar Sano)
Take personal responsibility to protect yourself & your family.
Asuma la responsabilidad personal de protegerse a sí mismo y a su familia.

Be Smart
(Se Inteligente)
Practice social distancing. Follow CDC guidelines.
Practica el distanciamiento social. Siga las pautas de los CDC.
Be Holy
(Ser Santo)
Remember to be patient, kind and understandable above all else.
Recuerde ser paciente, amable y comprensible por encima de todo.
Volunteer | Voluntario
Get Involved in the Community and Reach Out to Those in Need
Our community is rich and vibrant with many opportunities to contribute your time and talent. We have numerous options available for you to exercise the act of charity whether you're looking refine your leadership skills or simply looking to offer up your much needed time.
Nuestra comunidad es rica y vibrante con muchas oportunidades para contribuir con su tiempo y talento. Tenemos numerosas opciones disponibles para que usted ejerza el acto de caridad, ya sea que busque refinar sus habilidades de liderazgo o simplemente quiera ofrecer el tiempo que tanto necesita.
Administration

Collection Counters, Bulletin Stuffing, General Parish Office Support

Faith Formation

Catechists, Catechist Assistants, Planners, Organizers

Hospitality

Event Planners, Cooks, Hosts, Servers, Speakers

Liturgy

Altar Servers, Lectors, Sacristans, Eucharistic Ministers
Reach Out to Us | Llegar a Nosotros
Find Out How You Can Serve God
Our Gallery | Nuestro Galería
Enjoy Pictures of Our Church and Community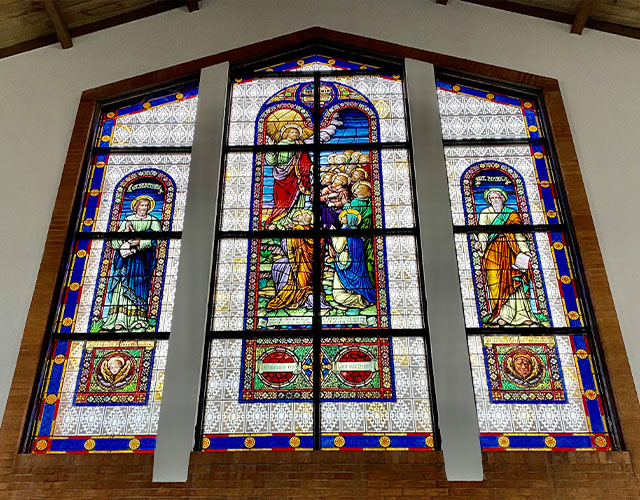 Stained Glass at St. Catherine of Siena Church
A view of our stained glass above the North side entrance.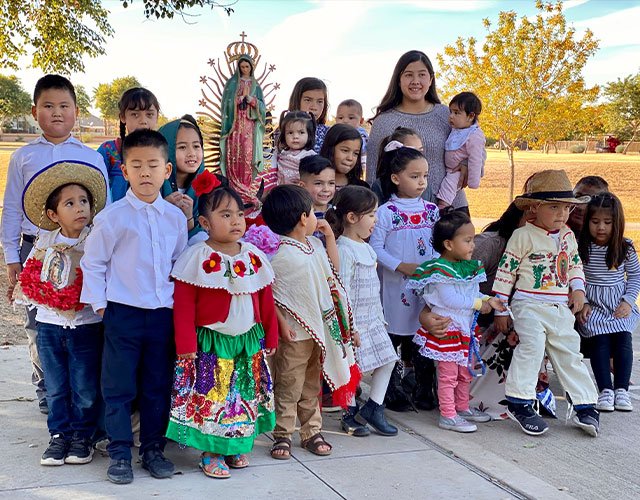 Feast Day Celebration of Our Lady of Guadalupe
Community members marched around a park praying the rosary and had a picnic.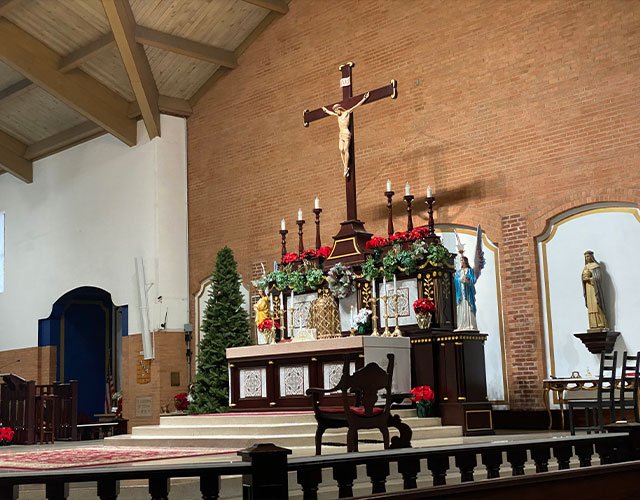 The Altar at St. Catherine of Siena Church
A view of our altar from the North side seating.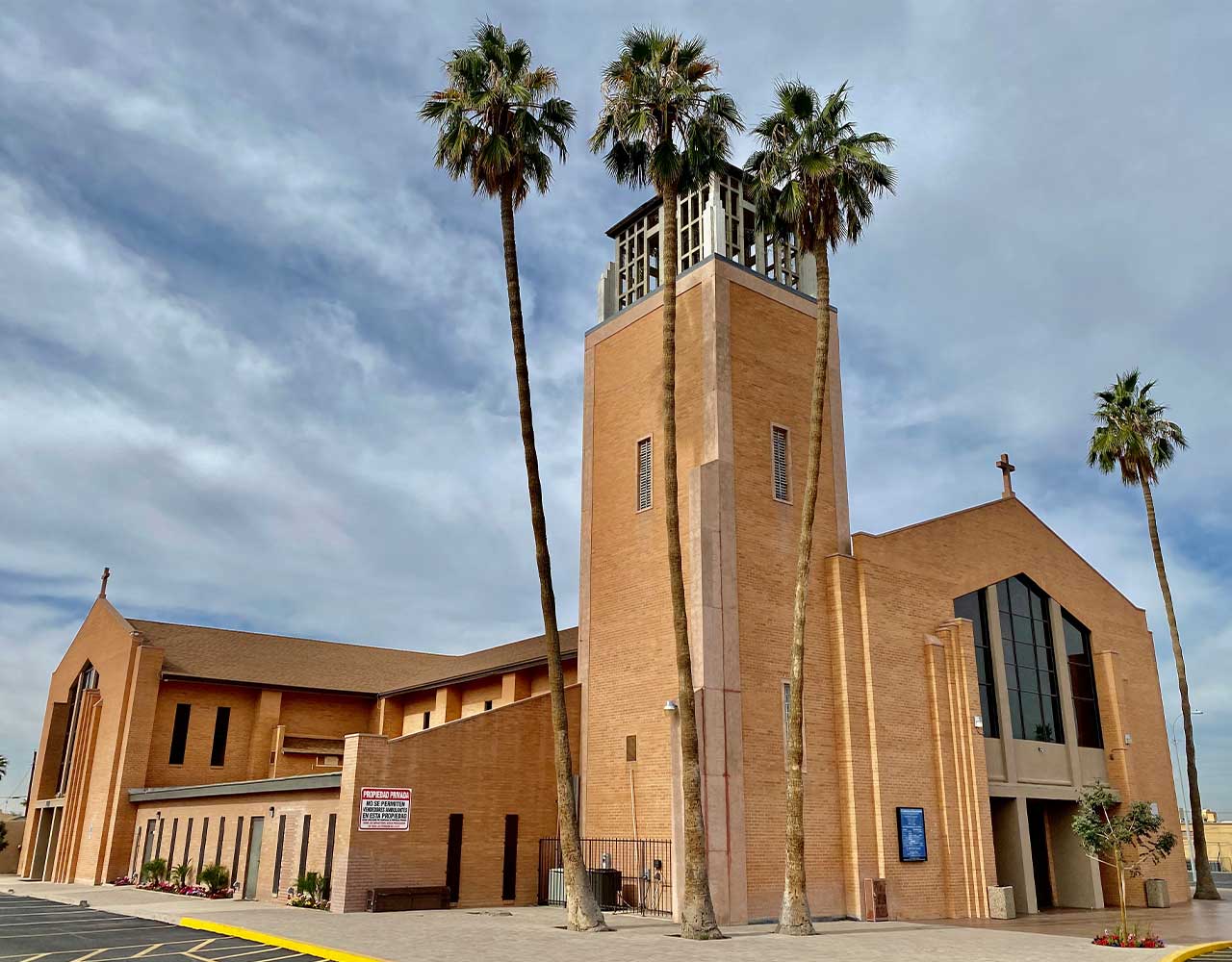 St. Catherine of Siena Church
A view of our church from S. Central Avenue.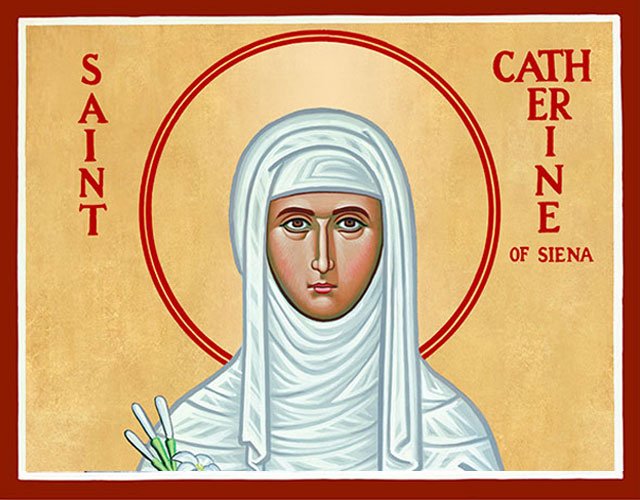 St. Catherine of Siena Icon
A cropped version of the Saint Catherine of Siena icon.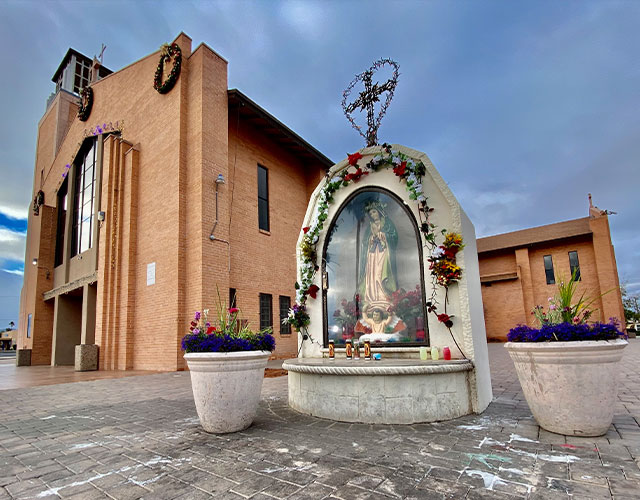 Our Lady of Guadalupe at St. Catherine of Siena Church
Our busy community members often stop by for a quick prayer and blessing from Our Lady of Guadalupe.
Latest Updates | Últimas Actualizaciones
Some Of The Recent Stories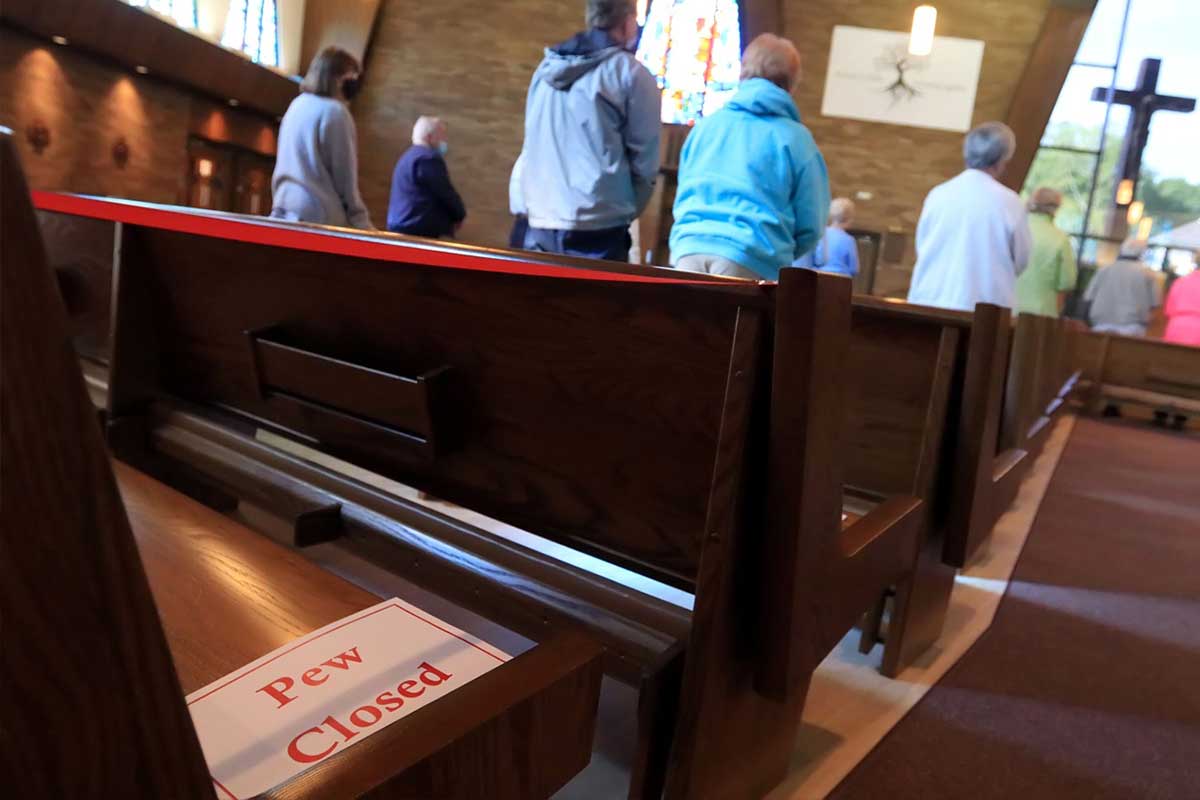 Parish Updates
Las Pautas para Los Feligreses para Prepararse para Regresar a Las Misas Públicas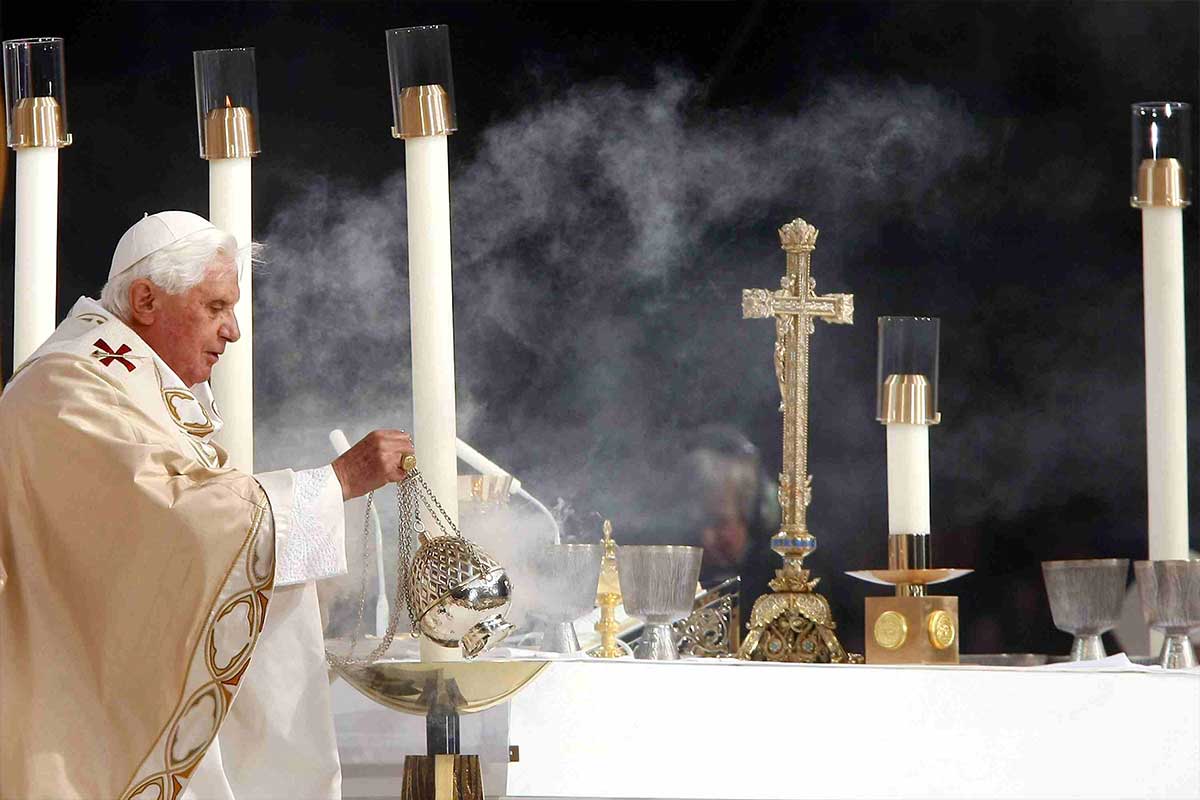 Catholic Faith
¿Cuál es la diferencia entre la misa tradicional en latín y la misa del Novus Ordo?